If you have the word "SCAM" appearing after your business name in Google Autocomplete, you are not alone. Many businesses – particularly those who sell products and services that seem too good to be true – often see scam as a suggestion associated with their business.
We have developed a service where we can remove this for you at no risk! That means, you do not pay unless we are successful.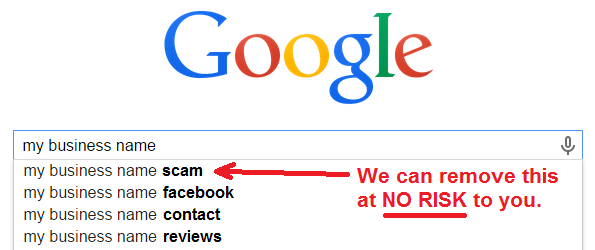 Removing Scam From Google Autocomplete
We have tested a method whereby we can remove the word "scam" from your suggestions in autocomplete. We have had success with numerous clients using this method and we now offer it to you as a no-risk solution to your problem.
At present, the fee is $700 and you only pay if we are successful. We have found this fix to be long-lasting and while we do not control Google and cannot say it is a permanent fix, we have not seen "scam" return as a suggestion for any client we have worked with.
Removal Of Scam Guaranteed
If you would like us to attempt to remove the "scam" suggestion from after your business name in autocomplete, please complete the following form and we will contact you promptly to remove it.
[contact-form-7 id="591″ title="Remove Scam"]