Update May 2015
We recently completed a 3-month test for a large business client who wanted to push a negative suggestion out of the top 4. The customer wanted to target 2 specific cities where he had offices, so the best way to do that is with proxies. We used HideMyAss, as it had hundreds of proxies in each of the cities he wanted to target.
We searched each of 12 terms in each city, 100 times per month from February through April. IP was changed for each search and cache was cleared. Searches occurred in batches on different days throughout each month.
Result
Good news is we were successful in fixing the client's problem – in both cities the negative no longer appeared and this happened in the first month. Bad news is NONE of the 12 terms we were searching appeared as suggestions.
For me, this further confirms two things:
HMA is not a reliable fix for autocomplete
Sometimes just "shaking the tree" is helpful in pushing negative terms out.
Regarding #2, I've discussed this with associates who do autocomplete work and we agree that even though we don't always see EXACTLY what we are looking for, the fact that we've put energy into fixing the problem is enough to force negative suggestions out.
Of course, if this client had waited and done nothing, he may've seen the negative go away on its own.  For big clients with lots of queued suggestions, it's not at all uncommon for Google to randomly pull in and push out suggestions.
Below, is the original blog post, written in 2014.
---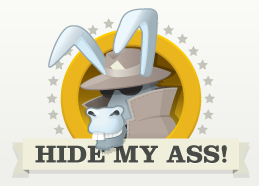 Hide My Ass is a user-friendly proxy switching service with prices starting under $12 per month. It has thousands of unique IP addresses which makes it ideal for fixing AutoSuggest problems in Google and Bing. It also allows you to choose the location of your IP which is is excellent for fixing local Google autocomplete issues.
Or, at least it was an excellent tool until few days ago.
Hide My Ass IPs Blacklisted By Google
Around June 1, 2014, Google blacklisted all of the IP addresses in HMA and we suspect Bing is soon to follow. This means any keyword searches you do using a HideMyAss.com IP will not count. Further, we believe this algorithm update rolled back to around May 8, rendering any HMA search activity useless.
We have two recent case studies to back up our claim.
We are always testing our methods to make sure they are effective at changing Google autocomplete. In April and May of 2014, I had one of my team search Google.com 50 times each for:
Mike Munter digs
Mike Munter linkedin
Mike Munter marketing specialist
We made sure each search was done from a unique IP address, so that over 2 months, we'd accumulate search activity equivalent to that of 100 different people all across the United States.
However, when Google refreshed it's Autocomplete algorithm on May 26, 2014, I did not see the suggestions above appearing after my name. "Hmmm," I thought, this is cause for alarm. Ordinarily, this would've been enough search activity and enough time for at least ONE of the suggestions to begin appearing.
I kept an eye on it and about a week later, I have proof of two cases where clients whose suggestions HAD BEEN FIXED, were now not fixed.
AutoSuggest Algorithm Update Nullifies Hide My Ass Search Activity
One of these is a reputation management client.
On Day 1 of his campaign, April 21, 2014, the client1 had 2 suggestions appearing next to his name:
DUI
Pensacola FL
On May 8, 2014, we noticed our first  update with these suggestions appearing next to his name in this order:
Facebook
Twitter
Blog
DUI
LinkedIn
Pensacola FL
On May 26, 2014, the client's situation was fixed and these were the 10 suggestions we saw when Googling his name:
Inventor
Twitter
Author
Latest news
Blog
Press Releases
Marriage
LinkedIn
Facebook
Patents Pending
On June 3, 2014, we noticed that the suggestions had reverted back and were very similar to what we saw on May 8, 2014. "Blog" and "Twitter" flip-flopped and the negative had returned.
Facebook
Blog
Twitter
DUI
LinkedIn
Pensacola FL
Since many of the searches we had done for this client were done using Hide My Ass, we now had further proof that Google had banned HMA IP addresses.
In another case we worked on, we had appended a brand name to lucrative keywords in order to help this client increase it's visibility in Google. With this client, we also noticed that those positive brand suggestions were gone.
What we don't know yet, is the severity of Google's update. I believe it's possible that Google could look at all searches done using HideMyAss IPs and blacklist those keywords. If Google does this, it could mean those terms will NEVER appear as suggestions. We'll have to wait and see.
Conclusion
In the mean time, manipulating Google AutoSuggest just got a lot harder. We continue to streamline our systems, build our army of people, and ensure that each of our searches is done naturally. But since this work is a violation of Google's TOS, it's always going to be prone to algorithm updates.
If you have a problem with Google autocomplete or you don't like the suggestions you see when you Google your name, we can help you fix it. Call 503-890-6663 for a quote.
1 We adhere to strict confidentiality for all our clients and therefore are unable to share the screenshots or identifying client information. Keywords used in the example were substituted for the real keywords.