---
Autocomplete Proposal
---
Note: This page is set to noindex. It will not be found anywhere on the web. 
Objective: Displace negative suggestion(s) shown below from Autocomplete in Google.com for keyword: Nick Oberheiden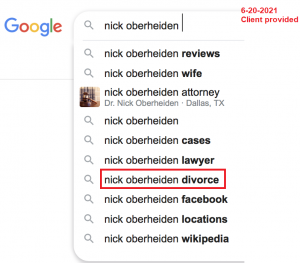 Agreement: We guarantee to push out each of the negative suggestions shown above. If we do not push out the negative suggestions, you owe nothing and we issue a full refund.
Normally, our solution works for 3 months and oftentimes much longer. But we don't control Google's algorithm or customer search patterns, so it's impossible to guarantee how long the negative(s) suggestions will be gone.
Maintenance: If the negative suggestion(s) reappear, you can do maintenance as needed. Price for maintenance will likely be discounted 20-40% off your initial price below. Firm maintenance cost will be quoted at the time of each renewal period.
Cost: $3,300. We charge your credit card in advance and issue a full refund if we are not successful in meeting the objective. This is a guaranteed service. It is currently taking about 45-90 days for us to push out the negative suggestions.
FIXED 7-29-2021
Terms to use per Gerrid-
Priority terms:
Recent wins
Litigation victories
TV interviews
VIP cases
CEO defense
Celebrity cases
Top ratings
White House cases
Secondary terms:
Media expert
Reviews
National practice
Notable cases
Practice areas
High ethics
Litigation counsel
Trial lawyer
Testimonials
Famous clients
High profile lawyer
Quotes
Books
Nick Oberheiden – Autocomplete